Poland's gas demand should increase by 60% over the next decade
According to the Polish gas transmission system operator Gaz-System, Poland's gas demand is forecast to increase by 60% over the next 10-13 years, from nearly 21 bcm in 2019 to over 30 bcm. The country will use gas as a transition fuel before switching to nuclear and renewables. In 2040, gas should account for 30% of Poland's power mix, followed by wind (30%), nuclear (16%) and solar (5%).
Since 2014, gas consumption increased by 3.4%/year on average to reach 21 bcm in 2019. Poland has installed 2.5 GW of gas-fired projects since 2010 but only 16% of the gas is consumed in the power sector. In 2019, the country imported 17.7 bcm of gas (+12%), of which 3.5 bcm is LNG. Russia is the main gas supplier, although its share is declining rapidly (65% in 2019, down from 73% in 2018); imports from Russia take place through a long-term contract for 9 bcm/year until 2022. In 2019, the state-owned energy group PGNiG announced that it would not renew its contract.
---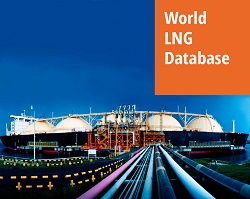 World LNG Database offers a complete set of data on LNG markets. The service provides detailed information on existing and planned liquefaction and regasification plants. It also includes LNG shipping around the world, LNG contracts, time series on regasification and liquefaction capacities, LNG flows and LNG prices for all players in the market.