Iraq plans a new 300,000 bbl/d greenfield refinery in the port of Fao
Iraq will seek bids to build a new 300,000 bbl/d greenfield oil refinery and a related petrochemical plant in the port of Fao, in the south of the country.
Iraq plans to retire part of the existing refining capacity and build new refineries. The country has 16 refineries, for a total nominal capacity of 1.0 mb/d. The main refineries are Baiji (310 kb/d), Basra (140 kb/d), Daura (expanded to 210 kb/d in 2011), and Kalak (expanded to 100 kb/d in 2011). The Baiji refinery, which provided more than 40% of the production of oil and suffered from intense fights in 2015, has been repaired and has been operational again since September 2018.
It aims at increasing the country's domestic refining capacity to more than 1.4 mb/d through several projects, including 150,000 bbl/d Karbala, 150,000 bbl/d Maysan and 150,000 bbl/d Kirkuk. In 2018, it also outlined plans to invite bidders for the development of three other refineries: two 150,000 bbl/d facilities in Nasiriya (southern Iraq) and in the western Anbar province, along with a 100,000 bbl/d refinery in the city of Qayyarah in the Mosul region.
---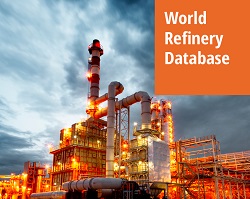 Use this powerful business intelligence tool to assess current and future production capacities of oil products by country and by zone. Gain insight into companies' asset portfolios and future trends for refined oil production capacities, giving you the ultimate edge for strategy and decision-making.