Inpex's Masela Block contract has been extended by 27 years (Indonesia)
The Japanese energy group Inpex will be allowed to operate the Masela gas field (Indonesia) for another 27 years starting from 2028. The initial Masela Block Production Sharing Contract (PSC) was due to expire in 2028 and this extension will allow Inpex and its partner Shell to move ahead with the associated Abadi LNG project. The government added 27 years instead of 20 as compensation for changing the Abadi LNG facility development scheme from floating (FLNG) to land-based.
The Masela block is located in the Timor Sea near Indonesia's border with northern Australia and is owned by Inpex (65%) and Shell (35%). Inpex acquired a 100% interest in the Masela Block back in November 1998 through an open bid conducted by the Indonesian government. In 2010, Indonesia approved the initial FLNG plan with an annual capacity of 2.5 Mt/year, which was later raised to 7.5 Mt/year in September 2015.
Back in April 2016, the Indonesian government rejected the Shell/Inpex initial US$15bn plan to develop a floating LNG facility (FLNG) to process gas from the Masela field, saying an onshore plant would be US$6bn cheaper and more beneficial for the local economy. The authorities instructed Inpex to re-propose a plan of development based on onshore LNG instead. The development plans had to be revised and this announcement pushed back the anticipated start of production from the field until the late 2020s.
---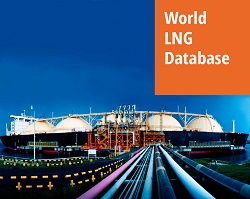 World LNG Database offers a complete set of data on LNG markets. The service provides detailed information on existing and planned liquefaction and regasification plants. It also includes LNG shipping around the world, LNG contracts, time series on regasification and liquefaction capacities, LNG flows and LNG prices for all players in the market.