India added 14.3 GW of renewable capacity in the last two years
According to the Indian Ministry for Power, Coal, New & Renewable Energy and Mines, a total of 14,3 GW of renewable power capacity was installed over the last two and half year, including 5.8 GW of solar, 7.04 GW from wind, 530 MW from small-hydropower and 930 MW from biomass-fired power.
The Grid Interactive Renewable Power initiative aims to reach 175 GW by 2022. India aims to accelerate the development of renewable capacities over the next three years, planning to add 16,725 MW in the current fiscal year (April 2016-March 2017), 20,450 MW in 2017-2018 and 22,150 MW. The bulk of these capacities additions should come from solar (12 GW in 2016-2017, then 15 GW and 16 GW in 2018-2019) and wind to a lesser extent (4 GW in 2016-2017, 4.6 GW in 2017-2018 and 5.2 GW in 2018-2019). India plans to add 2.1 GW of biomass-fired capacity (500 MW, then 750 MW and finally 850 MW in 2018-2019) and 425 MW of small hydro (225 MW in 2016-2017 and then 100 MW per year).
In order to achieve the targets, the Indian government has taken various measures, such as amendments in the Tariff Policy for strong enforcement of Renewable Purchase Obligation (RPO) and for providing Renewable Generation Obligation (RGO) or incorporating measures in Integrated Power Development Scheme (IPDS) for encouraging distribution companies and making net-metering compulsory.
---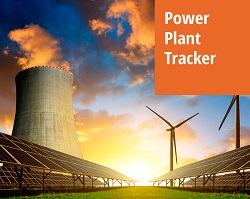 Enerdata has developed a market research service to screen, monitor and analyse the development of power generation assets.
Power Plant Tracker offers an interactive database and a powerful search engine covering power plants worldwide – including both installed and planned capacities for renewables and fossil fuels.