Guangdong will include aviation sector in its carbon market (China)
The Guangdong province (southern China) will include the aviation sector in its pilot scheme for trading CO2 emissions that will be integrated in a national carbon market in 2017.
The Guangdong emission trading scheme was introduced in December 2013 and covers 189 companies handing over 365 million permits in 2015 (-1.4% from 2014). The province government will set aside 21 million permits for quarterly auctions, that will start in September 2016 (2 million permits will be available for sale). On 20 June (annual deadline for companies to surrender permits to the local government), 33 million permits had been traded (31% of the total number traded in China), corresponding to a 100% compliance rate this year.
China will implement a national CO2 cap-and-trade scheme as of 2017, to limit and and put a price on greenhouse gas (GHG) emissions. So far, China has already implemented seven local carbon exchanges in two provinces (Hubei and Guangdong) and in five large cities, namely Beijing, Tianjin, Shanghai, Shenzhen and Chongqing.
---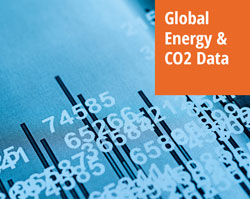 Then Global Energy Market Data & CO2 is your database! We provide world coverage of the oil, gas, coal, and power markets and a detailed overview of national supply & demand with annual data going back to 1970.
This energy database leverages more than 200 official data sources, which are processed by our analysts to provide fully harmonised data sets that are updated monthly.