German gas TSOs present a 10-year €8.5bn investment plan
The Association of German Gas Transmission System (FNB) has launched a public consultation on its €8.5bn investment plan for gas grid expansion over the 2020-2030 period, with the objective to offer capacity for increased imports. The association, which regroups among others Gascade Gastransport, Ontras Gastransport and Open Grid Europe, intends to add 1,746 km of new gas pipelines and compressor capacity of 405 MW over the next decade. According to the FNB, the gas supply capacity needs to be increased in Baden-Wuerttemberg, as the region will become more dependant on gas-fired power plants due to the closure of nuclear and coal plants. In addition, major gas projects are outlined, such as the Eugal gas pipeline project connecting the Nord Stream 2 gas pipeline in northern Germany to the the Czech border and a couple of proposed LNG import terminals. The consultation is open until 29 May 2020.
---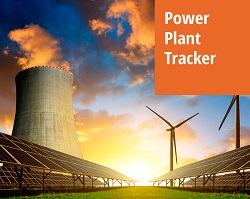 Enerdata has developed a market research service to screen, monitor and analyse the development of power generation assets.
Power Plant Tracker offers an interactive database and a powerful search engine covering power plants worldwide – including both installed and planned capacities for renewables and fossil fuels.