Gazprom commissions 2.7 bcm/year FSRU in Kaliningrad (Russia)
Russian state-held gas company Gazprom has commissioned the 2 Mt/year (2.7 bcm/year) Marshal Vasilevsky floating storage and regasification unit (FSRU) in Kaliningrad (Russia) on the coast of the Baltic Sea. It can store 174,000 m3 of gas and is now connected to the existing gas pipeline near the Kaliningradskoye underground gas storage (UGS) facility.
This new project, the first LNG import terminal in Russia, will bolster the region's energy security. Until now, the Kaliningrad region received gas only through the 2.5 bcm/year Minsk – Vilnius – Kaunas – Kaliningrad transit gas pipeline. The first string of the pipeline section running across the Kaliningrad region was brought onstream in 1985. With the commissioning of the FSRU, gas pipeline deliveries will be completely halted and the regional demand will be covered entirely with LNG.
---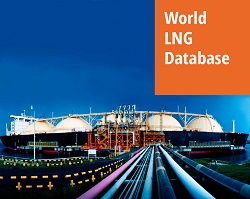 World LNG Database offers a complete set of data on LNG markets. The service provides detailed information on existing and planned liquefaction and regasification plants. It also includes LNG shipping around the world, LNG contracts, time series on regasification and liquefaction capacities, LNG flows and LNG prices for all players in the market.