Gabon signs agreement for a 120 MW solar project near Libreville
Gabon has signed an agreement with Solen to build a 120 MW solar photovoltaic (PV) project in Ayémé Plaine, a locality located about 30 km from the capital Libreville. The project, which will supply power to the Gabon Energy and Water Company (Société d'énergie et d'eau du Gabon, SEEG, 100% state-owned), will be developed in two 60 MW phases. 
Gabon's electricity capacity has remained stable since 2013 at around 780 MW. More than a half of the electricity capacity is thermal (445 MW) and 43% is hydropower. The three main hydropower plants are Grand Poubara (160 MW, commissioned in 2013), Kinguélé (58 MW) and Tchimbélé (68 MW), near Libreville. The country aims to reach an installed renewable capacity of 250 MW by 2023 and to raise the share of renewables in its power mix to 80% by 2030.
---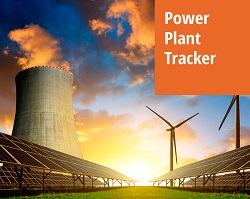 Enerdata has developed a market research service to screen, monitor and analyse the development of power generation assets.
Power Plant Tracker offers an interactive database and a powerful search engine covering power plants worldwide – including both installed and planned capacities for renewables and fossil fuels.