France and Belgium implement measures to contain the rise in electricity prices
The French government has refused a proposal from the Energy Regulatory Commission (CRE) to increase regulated tariffs for electricity sales by 44.5% excluding tax (i.e. 35.4% including tax) for residential consumers and by 44.7% excluding tax (i.e. 35.9% including tax) for professional consumers. Subsequently, the authorities have set, by decree, a tariff scale corresponding to an increase of 4% including tax on average. To contain the increase in electricity tariffs, the country lowered the Excise Tax on Final Electricity Consumption (TICFE) to its minimum threshold. In addition, the government forced EDF to sell an additional 20 TWh of nuclear power generation in 2022 under the Arenh mechanism to alternative suppliers at €46.2/MWh to limit the rise in electricity tariffs.
In Belgium, the coalition government has agreed on a €1.1bn package to help households coping with rising electricity prices. The country will lower the VAT on electricity from 21% to 6% for a four-month period starting 1 March 2022. In addition, all households having subscribed to a residential contract will receive a one-time check for €100 as a direct reduction on the electricity bill, and a social tariff that approximately one million households benefit from will be extended until the end of June 2022. Compared to December 2021, energy prices increased in January 2022 by an average of 49% for variable electricity contracts and 42% for fixed-price contracts, according to the Electricity and Gas Regulation Commission (Creg); gas prices also surged by 59% for variable contracts and 55% for fixed-price contracts in January 2022.
---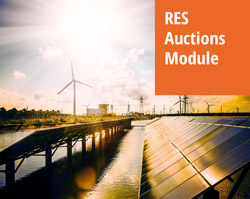 Discover our very detailed and regularly updated RES auctions database with worldwide coverage and a technical focus backed by academic research.
With our renewable energies auctions service you will be able to monitor auctions at a global level. Its (expanding) scope notably includes all major G20 countries and offers an especially fine tracking on Europe and South America.