The European Council approves linking the EU and Swiss ETS markets
The European Council has decided to authorise the signing of an agreement between Switzerland and the European Union (EU) to link their respective emissions trading systems (ETS) markets. The document will be forwarded to the European Parliament for its consent. Once approved, the agreement is expected to enhance carbon pricing throughout Europe and create a solid international carbon market. Switzerland will keep a separate system from the EU ETS but participants in the EU ETS will be allowed to use allowances from the Swiss system for compliance, and vice versa.
Following several years of negotiations, the EU and Switzerland have agreed on criteria and arrangements for linking the systems and signing the agreement could take place before the end of this year. The entire agreement will enter into force on 1 January of the year following the formal exchange of instruments of ratification by both signatories, which is not expected before 2019.
The EU and Swiss ETS cover the 2013-2020 period (with negotiations under way to extend beyond 2021) and have similar structures. The Swiss ETS already meets two of the three fundamental requirements to link to the EU ETS, i.e. covering large and energy-intensive installations since 2013 and introducing an absolute emissions cap. Switzerland is currently working on measures to extend the ETS to the aviation sector.
---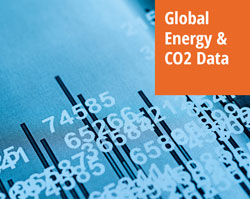 Then Global Energy Market Data & CO2 is your database! We provide world coverage of the oil, gas, coal, and power markets and a detailed overview of national supply & demand with annual data going back to 1970.
This energy database leverages more than 200 official data sources, which are processed by our analysts to provide fully harmonized data sets that are updated monthly.