EU GHG emissions increased by 4.8% in 2021 but remain 4% lower than in 2019
The European Commission has adopted the EU Climate Action Progress Report, which reveals that the EU domestic greenhouse gas (GHG) emissions rose by 4.8% in 2021 (reaching 3,524 MtCO2eq according to preliminary estimates), after exceptionally low levels in 2020 due to the Covid pandemic (3,354 MtCO2eq). The 2021 GHG emissions remain 4% below 2019 levels.
EU net domestic emissions, including the land use, Land use Change and forestry (LULUCF) sector, were 30% lower than 1990 levels. The EU targets a 55% reduction in net GHG emissions by 2030 (from 1990 levels) and climate neutrality by 2050.
Compared to the previous year, 2021 emissions from sectors covered by the Emission Trading System (EU ETS) increased by 6.6%. The EU ETS covers power generation, the bulk of industrial production and emissions from intra-EU aviation. The increase reflects both the economic recovery from COVID-19 and the developing energy crisis. Following a drop of some 60% in 2020, EU ETS aviation emissions rebounded in 2021 by 30% but remained 50% lower than in 2019.
Non-ETS emissions, coming from smaller-scale industry, transport, buildings, agriculture and waste, increased by 3.5%. The most pronounced increase was in the transport sector, where emissions rose by over 7% compared to 2020. Emissions from buildings also saw a rise of 3.1%. Emissions from the agriculture sector dipped slightly by -0.3%.
The EU also released a Trends and Projections Report (preliminary results), which states that energy consumption increased in 2021 in both primary and final energy consumption, to reach 1,306 Mtoe (+6%) and 952 Mtoe (+5%) respectively, compared to 2020. The report also reveals that Europe's total share of renewable energy sources remained at 22% of energy consumption in 2021, pausing an otherwise strong growth in recent years.
---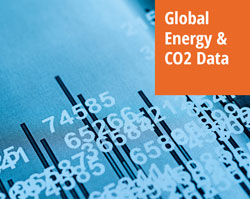 Then Global Energy Market Data & CO2 is your database! We provide world coverage of the oil, gas, coal, and power markets and a detailed overview of national supply & demand with annual data going back to 1970.
This energy database leverages more than 200 official data sources, which are processed by our analysts to provide fully harmonised data sets that are updated monthly.