Eskom completes unbundling of its power transmission division (South Africa)
South Africa's state-owned power utility Eskom has completed the legal separation of its power transmission unit, which was due by the end of 2021. The National Transmission Company South Africa (NTCSA) was incorporated as a wholly-owned subsidiary and the company is expected to be operational during the 2022 calendar year, once the National Energy Regulatory of South Africa (NERSA) granted the new entity a licence and lender consent had been secured.
In November 2019, South Africa unveiled plans to split Eskom into three separate companies dedicated to power generation, transmission and distribution by the end of 2022. The three companies would remain under a state-owned holding company but Eskom would abandon its near-monopoly and face increased competition from independent power producers (IPPs) with lower power generation costs. The unbundling of the generation and distribution activities should by completed by 31 December 2022.
In February 2020, the Ministry of Mineral Resources and Energy announced that the government intends to create a new power generation company, distinct from Eskom. Ideally, the new power generation company would be a partnership between the government and private investors and would use diversified energy sources ('clean coal', gas and solar power). The type of company - state or privately-owned - and its scope remained to be determined; investors were invited to partner with the government or to invest on their own to create a new company.
---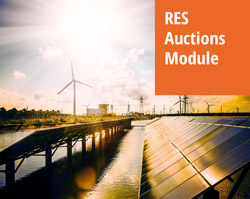 Discover our very detailed and regularly updated RES auctions database with worldwide coverage and a technical focus backed by academic research.
With our renewable energies auctions service you will be able to monitor auctions at a global level. Its (expanding) scope notably includes all major G20 countries and offers an especially fine tracking on Europe and South America.