EDF's nuclear power generation rose by 3.7% in 2018 (France)
French state-owned power utility EDF has published information concerning its nuclear power generation in France and in the United Kindgom in 2018.
French nuclear power generation rose by 3.7% (+14.1 TWh) in 2018, reaching 393 TWh, in line with its previously established corporate targets ranging between 393 TWh and 396 TWh. Lower reactor outages in December 2018 (compared with the previous year) contributed to a higher monthly generation (+4%). In the United Kingdom, nuclear power generation fell by 7.5% on a year-on-year basis to 59.1 TWh.
EDF operates 58 nuclear reactors in France, with a total capacity of 63.1 GWe. Nuclear energy amounts close to three quarters of the total domestic power generation. In the UK, EDF Energy currently owns and operates eight nuclear power plants with a total combined capacity of 8.9 GWe.
---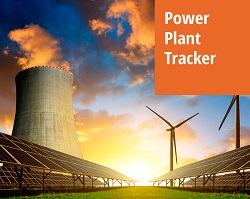 Enerdata has developed a market research service to screen, monitor and analyse the development of power generation assets.
Power Plant Tracker offers an interactive database and a powerful search engine covering power plants worldwide – including both installed and planned capacities for renewables and fossil fuels.