ConocoPhillips will mothball the Kenai LNG plant in autumn 2017 (US)
The US company ConocoPhillips plans to mothball the Kenai LNG production plant and export terminal in Alaska (United States) in order to save expenses, which concretely means no LNG will be stored there in the future. Previously, ConocoPhillips intended to sell the facility but has not found a buyer yet.
The Kenai LNG facility only operated for 6 months in 2015 and produced 565 mcm of LNG during the year, much below its nameplate capacity of 2 bcm/year (1.5 Mt/year). Only six LNG cargoes were delivered and the company did neither ship a single tanker load nor conduct any export program in 2016.
The liquefaction plant was commissioned in 1969 and was the only LNG plant in North America until the start up of the 4.5 Mt/year Sabine Pass LNG project in 2016. Regular shipments were made to Tokyo Gas and Tokyo Electric in particular but Kenai's export license expired in March 2013, stopping the plant's operations. In April 2014, a new export license was granted, allowing the plant to export 40 bcf (1.1 bcm) of LNG over a two-year period, and relaunching operations. The licence was renewed in February 2016 for 40 bcf (1.1 bcm) over the February 2016-February 2018 period. However, ConocoPhillips has not exported any gas so far in 2016 due to low international gas prices.
---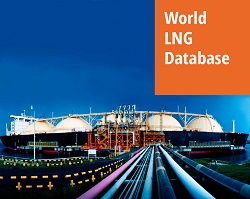 World LNG Database offers a complete set of data on LNG markets. The service provides detailed information on existing and planned liquefaction and regasification plants. It also includes LNG shipping around the world, LNG contracts, time series on regasification and liquefaction capacities, LNG flows and LNG prices for all players in the market.