Coal-fired power generation fell by 25% in the United Kingdom in 2018
According to preliminary statistics released by the British Department for Business, Energy & Industrial Strategy (BEIS), power generation in the United Kingdom dipped by 1.4% in 2018, i.e. nearly 14% less than in 2008. Coal-fired power generation continued to decline in 2018 (-25% on 2017, -86% since 2008), while gas-fired generation decreased by 3.9% during the year, against higher gas prices in the third quarter of 2018 and increased renewable power generation.
Increased renewable capacity (+9.9% for wind and +2.5% for solar) raised wind and solar power generation by 14% in 2018 and bio-energy generation by 12%. Nuclear power generation fell by 7.5% in 2018 due to outages. Overall, gas covered 39% of the power mix in 2018, followed by renewables (33%), nuclear (19.5%) and coal (5%) and the share of low carbon sources (nuclear and renewables) rose by 2.7 percentage points to 53% of the power mix.
Final electricity consumption was stable on 2017 (+0.1%) at 301 TWh. Commercial consumption increased by 0.6% but electricity demand slightly declined in industry (-0.3%) and households (-0.1%).
---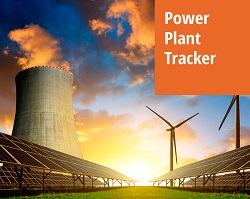 Enerdata has developed a market research service to screen, monitor and analyse the development of power generation assets.
Power Plant Tracker offers an interactive database and a powerful search engine covering power plants worldwide – including both installed and planned capacities for renewables and fossil fuels.