China approves two new nuclear plants (4.4 GW) in eastern and southern China
China's State Council has approved two new nuclear plants, each comprised of two reactors, totalling 4.4 GW. The Zhangzhou phase 2 nuclear plant, located in the Fujian province (eastern China), will hold two 1.2 GW HPR-1000 (Hualong One) reactors. The Lianjiang phase 1 nuclear plant, located in the Guangdong province (southern China), will hold two 1 GW CAP-1000 reactors. The latter project will be run by State Power Investment Corporation (SPIC). Development and construction of the four new reactors is expected to cost CNY80bn (US$11.5bn).
Earlier in September 2022, China started construction of the 1.2 GW Unit 5 of the upcoming Lufeng nuclear power plant (Guangdong). In July 2022, China also started construction of units 3 and 4 of the Haiyang nuclear power plant, totalling 2.5 GW. In June 2022, the country started construction of a 1 GW reactor at the Sanmen nuclear plant in Zhejiang, and began commercial operations of unit 6 (1.1 GW) of the Hongyanhe nuclear power plant in Liaoning.
At end-2021, China's nuclear capacity reached 53.3 GW (+7% compared to 2020) and its nuclear power generation reached 408 TWh (+11.3% compared to 2020). China targets 200 GW of nuclear capacity by 2035. As of September 2022, China had nearly 17 GW of nuclear capacity under construction and 197 GW under development.
---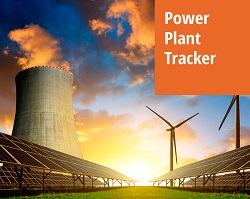 Enerdata has developed a market research service to screen, monitor and analyse the development of power generation assets.
Power Plant Tracker offers an interactive database and a powerful search engine covering power plants worldwide – including both installed and planned capacities for renewables and fossil fuels.