Cheniere takes FID on 10 Mt/year Corpus Christi LNG expansion (US)
Cheniere Energy has made a positive Financial Investment Decision (FID) on a 10 Mt/year expansion project at its Corpus Christi liquefaction and export LNG terminal project in Texas (United States). Construction started earlier in 2022 under limited notice to proceed. The "Stage 3" project will include 7 smaller LNG trains of more than 1.4 Mt/year each (total capacity of more than 9.5 Mt/year). Cheniere Energy had initially planned to develop two large 4.5 Mt/year liquefaction trains but in 2017 it decided to change the design of the expansion project, replacing the two large trains with seven mid-scale trains. The Federal Energy Commission (FERC) approved the Stage 3 project in November 2019 and it could start commissioning in 2024 at the earliest.
---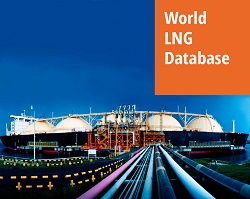 World LNG Database offers a complete set of data on LNG markets. The service provides detailed information on existing and planned liquefaction and regasification plants. It also includes LNG shipping around the world, LNG contracts, time series on regasification and liquefaction capacities, LNG flows and LNG prices for all players in the market.