Bulgaria and Greece sign gas interconnection agreement
Gas transmission network operators in Bulgaria and Greece, Bulgartransgaz and DESFA, have signed an interconnection agreement allowing market players to transport gas – including from LNG sources – between the two countries for the first time, starting 1 July 2016.
This interconnection agreement between the Bulgarian network operators Bulgartransgaz and the Greek network operators DESFA is expected to diversify gas supplies and increase security of supply in the region. It will soon be followed by similar agreements between the Bulgarian and Romanian and the Romanian and Ukrainian network operators respectively and a follow up on an agreement signed in 2015 between the Hungarian and Ukrainian network operators.
In December 2015, the two countries signed a final investment agreement on the construction of a new 180 km long gas interconnection, the 3 bcm/year Interconnector Greece-Bulgaria (IGB) project. The project will be developed by Bulgaria's state-owned energy holding company BEH with a 50% interest, in partnership with Greek national gas company DEPA and Italian energy group Edison (25% each). Works are expected to start in October 2016 and the gas pipeline should commissioned after 2018. Bulgaria also plans to connect a new gas pipeline to the Romanian network in 2016 and to commission a gas interconnection to Serbia in 2018.
---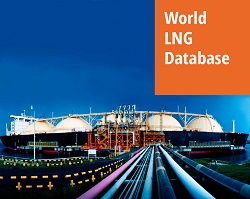 World LNG Database offers a complete set of data on LNG markets. The service provides detailed information on existing and planned liquefaction and regasification plants. It also includes LNG shipping around the world, LNG contracts, time series on regasification and liquefaction capacities, LNG flows and LNG prices for all players in the market.