British Columbia will be the 1st gas producing province in Canada by 2040
According to the Canada Energy Regulator (CER), Alberta's marketable gas production is expected to stagnate over the period 2019-2040. On the contrary, British Columbia's gas production is projected to keep on increasing, catching up with Alberta's in 2040 thanks to rising growing tight gas production from the Montney Formation. The two provinces accounted for 94% of Canada's gas production from 2010 to 2018. LNG exports from Canada's west coast are expected to start in 2025.
The CER foresees a 35% increase in Canada's marketable natural gas production between 2020 and 2040. Marketable gas production is expected to decline in the short term due to continued low prices, from 15.9 bcf/d (450 mcm/d, or 164 bcm/year) expected in 2020 to 15.6 bcf/d (441 mcm/d, or 161 bcm/year) in 2025. However, gas production should then rise to 18.1 bcf/d (512 mcm/d, or 187 bcm/year) in 2030, 20 bcf/d (566 mcm/d, or 207 bcm/year) in 2035 and 21.4 bcf/d (606 mcm/d, or 221 bcm/year) in 2040, in line with the increase in gas prices.
---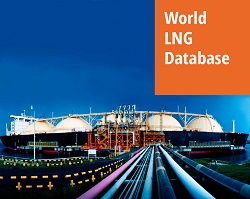 World LNG Database offers a complete set of data on LNG markets. The service provides detailed information on existing and planned liquefaction and regasification plants. It also includes LNG shipping around the world, LNG contracts, time series on regasification and liquefaction capacities, LNG flows and LNG prices for all players in the market.