US$50bn in investment non-consistent with Paris agreement since 2018
According to the Carbon Tracker Initiative (UK), since 2018, major oil & gas companies have approved around US$50bn of new investments that will not be able to thrive if countries comply with the Paris Agreement's goal to keep global temperature rise below 1.5-2˚C. A further US$21bn non-Paris-aligned project pipeline is set to be approved by end-2019.
The US$50bn correspond to 18 major projects that will be in financial constraints under a +2˚C-max world. The report shows that majors players have spent up to 30% of their investments in projects non-consistent with the target, which require an oil price above US$40/bbl (the estimated threshold for viable projects under a 1.6˚C scenario). Players with the most risk of stranded assets are ExxonMobil, Shell, Total, Chevron, BP and Eni. 
Among the projects listed are ExxonMobil's US$2.6bn Aspen oil sands project in Canada, Shell's US$13bn LNG project in Canada, BP's US$4.3bn ACG deepwater oil project (Azerbaijan) and BP's US$1.3bn Zinia 2 deepwater oil project (Angola).
---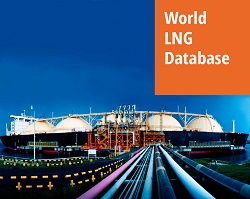 World LNG Database offers a complete set of data on LNG markets. The service provides detailed information on existing and planned liquefaction and regasification plants. It also includes LNG shipping around the world, LNG contracts, time series on regasification and liquefaction capacities, LNG flows and LNG prices for all players in the market.