Argentina will double transport capacity from Vaca Muerta gas field
Argentina's Ministry of Energy has announced that the country's oil pipeline operator, Oleoductos del Valle (Oldelval), will invest US$750m to double its transport capacity from the Vaca Muerta shale gas formation in central Argentina, from 13 bcm/year to 26 bcm/year. The project, which will require an additional 525 km of pipelines to be installed, is expected to be completed in 2024.
The announcement came after the government approved a 10-year extension for Oldelval to operate pipelines from the Neuquen basin to Vaca Muerta until 2037. Earlier in September 2022, Petronas and Argentina's Yacimientos Petrolíferos Fiscales (YPF) signed agreements to build a 25 Mt/year LNG facility and a 600 km gas transport pipeline at Vaca Muerta.
Vaca Muerta has estimated gas reserves at around 8,700 bcm and oil reserves at 16.2 Gbl. It is estimated to be the second largest unconventional gas reserve and the fourth largest oil reserve of its kind in the world, with only 7% of its potential developed. Argentina's oil production declined by 5% in 2020 to 29 Mt, after a 4% rise in 2019. Natural renewable auction dropped by 9% in 2020 (41 bcm), after having increased by 3.4%/year over 2014-2019.
---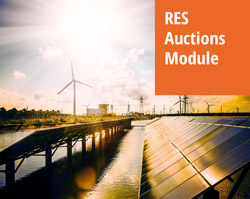 Discover our very detailed and regularly updated RES auctions database with worldwide coverage and a technical focus backed by academic research.
With our renewable energies auctions service you will be able to monitor auctions at a global level. Its (expanding) scope notably includes all major G20 countries and offers an especially fine tracking on Europe and South America.