Almost 40% of the global LNG trade flows through the South China sea
The US Energy Information Administration (EIA) reported that in 2016, almost 40% of global LNG trade, i.e. more than 120 bcm (4.7 Tcf), moved through the South China Sea trade route. This is crucial for Malaysia and Qatar, which jointly accounted for more than 60% of the total South China Sea LNG volumes in 2016. All Malaysian LNG exports pass through this sea as its LNG export facilities lie on its coast.
The EIA also reports that Brunei, Oman and the United Arab Emirates (UAE) shipped between 84% and 100% of their total LNG exports through this sea, which also accounted for approximately 23% of total Australian LNG exports and about 29% of Indonesian LNG exports.
The four LNG importers with the largest volumes moving through the sea (94% of the total volumes) are Japan (42%), South Korea (22%), China (17%) and Taiwan (14%). Two thirds of Chinese imports and more than 90% of Taiwan's imports were conveyed through the passage in 2016.
---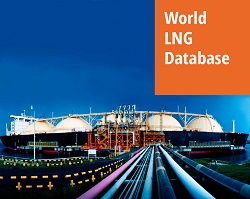 World LNG Database offers a complete set of data on LNG markets. The service provides detailed information on existing and planned liquefaction and regasification plants. It also includes LNG shipping around the world, LNG contracts, time series on regasification and liquefaction capacities, LNG flows and LNG prices for all players in the market.