Jordan Energy Information
Population: 10.0 million
GDP growth rate: 1.94 %/year
Energy independence: 6.00%

Data of the last year available: 2018
Total consumption/GDP:* 82.4 (2015=100)
CO2 Emissions: 2.45 tCO2/capita
Rate of T&D power losses: 10.0%

* at purchasing power parity
View all news, archive your new and create your own daily newsletters only on your topics/countries of interest with Key Energy Intelligence
Total Energy Consumption
Consumption per capita is 0.9 toe/cap, including 1 750 kWh of electricity (2018).
The country's overall consumption (9 Mtoe in 2018) increased by 4%/year between 2000 and 2017 and decreased in 2018 (-4%).
Oil is the country's main energy source, with 54% of total consumption, followed by natural gas with 38%.
Graph: CONSUMPTION TRENDS BY ENERGY SOURCE (Mtoe)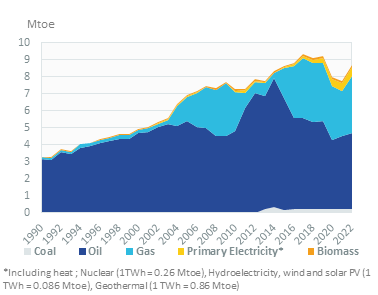 Graph: TOTAL CONSUMPTION MARKET SHARE BY ENERGY (2018, %)
Interactive Chart Jordan Total Energy Consumption
Crude Oil Production
The country has a refinery in Zarqa with a capacity of 102 600 bbl/d. Jordan imported 2.4 Mt of crude oil in 2018, 1 Mt less than in 2015. This decrease follows a long-term increasing trend of crude oil and oil products between 2010-2015, which was related to a significant rise in the consumption of fuel oil for electricity generation.
The oil consumed in the country is imported from Iraq, Saudi Arabia or Europe.
Interactive Chart Jordan Crude Oil Production
Renewable in % Electricity Production
The Renewable Energy Law (2012) aims for 10% of the country's energy mix to come from renewables in 2020, corresponding to a capacity of 1 800 MW, mainly from wind (1 200 MW) and solar (600 MW). This target will not be reached, as by the end of 2019 only 1 100 MW had been installed.
In 2012, the Electricity Regulatory Commission (ERC) adopted a feed-in tariff system for net metering; it is designed to reduce energy demand and allows the sale of any surplus energy generated back to the national grid.
Interactive Chart Jordan Share of Renewables in Electricity Production (incl hydro)
CO2 Fuel Combustion/CO2 Emissions
In its NDC, Jordan strives to reduce its greenhouse gas emissions by 14% in 2030. A maximum of 1.5% of this reduction contribution will be unconditionally fulfilled by the country's own means compared to a BAU scenario.
The country's CO2 emissions from energy combustion increased by an average of 4%/year over 2000 to 2017 and decreased slightly in 2018.
Graph: CO2-ENERGY EMISSIONS (MtCO2)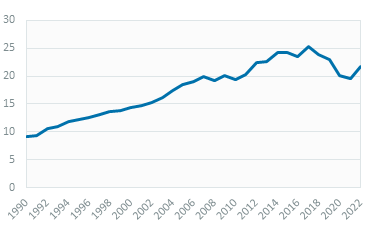 Shopping cart
Your shopping cart is empty.
Secured payment by