Energy efficiency has emerged as a key strategy to tackle the urgent issue of climate change. This scalable and cost-effective solution is proved as essential for reducing greenhouse gas emissions and meeting global targets.
How to develop a thorough regional monitoring of energy efficiency measures in Latin American countries?
Daily Energy News
Crown Estate Scotland has selected 13 projects in its INTOG (Innovation and Targeted Oil & Gas) leasing round, aimed to develop innovative offshore wind projects of 100 MW (IN) or less and larger offshore wind projects to directly supply offshore oil and gas platforms (TOG) in Scottish...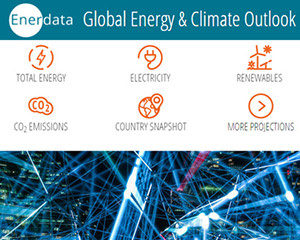 EnerOutlook is a free interactive online application, providing long-term energy trends at world and region level through interactive maps and graphs. Browse annual projections on primary and final energy consumption, CO2 emissions, electricity and renewable energy. Access forecasts to 2050 from the globally recognised POLES model, including regional and country snapshots.
Energy Research & Data Services
Access Our Services
Request a free trial of our services