Every year, Enerdata release their Global Energy and Climate Trends: an in-depth analysis of the past year's key figures, with projections related to the current context.
For 2022, the focus is done on the consequences of the recent game changers: the post-pandemic rebound and the energy crisis due to the war in Ukraine.
Daily Energy News
China has fully commissioned the 1.2 GW Huanggou pumped storage hydropower plant (4 x 300 MW) located in Mudanjiang, Heilongjiang province (northern China), Huanggou. The plant, which would generate 1.8 TWh/year and pump 2.4 TWh/year, is operated by the state-owned...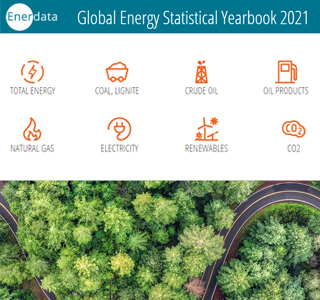 The 2021 edition of our yearbook is an application providing up-to-date 2020 energy statistics, 2021 estimates and decarbonisation indicators. With this user-friendly interactive tool, you can select the area and the period, and benchmark countries. Get unlimited access to premium annual data on supply, demand and trade for oil, gas, coal, renewable, and electricity markets up to 2020, as well as CO2 emission key figures. Covering 60 countries and regions through a unique multi-energy approach, Enerdata's Yearbook is a unique introduction to a full suite of interactive information services dedicated to the energy industry.
Energy Research & Data Services
Access Our Services
Request a free trial of our services