The 2025 objective of the European Solar Energy Strategy requires to double the installed capacities in 2020. What were the direct impacts of this strategy? Between 2020 and 2021, there has been a surge in photovoltaic usage, which exceeds previous growth figures.
Daily Energy News
BP has completed the acquisition of a 40.5% stake and operatorship in the Asian Renewable Energy Hub (AREH) green hydrogen project in the Pilbara region, in Western Australia. With this acquisition, whose amount was not disclosed, BP becomes the majority shareholder in the project (40.5%), in...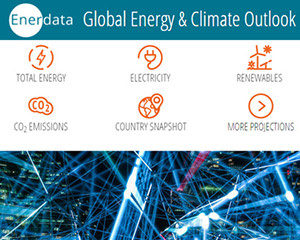 EnerOutlook is a free interactive online application, providing long-term energy trends at world and region level through interactive maps and graphs. Browse annual projections on primary and final energy consumption, CO2 emissions, electricity and renewable energy. Access forecasts to 2050 from the globally recognised POLES model, including regional and country snapshots.
Energy Research & Data Services
Access Our Services
Request a free trial of our services