Every year, Enerdata release their Global Energy and Climate Trends: an in-depth analysis of the past year's key figures, with projections related to the current context.
For 2022, the focus is done on the consequences of the recent game changers: the post-pandemic rebound and the energy crisis due to the war in Ukraine.
Daily Energy News
AvenHexicon, a joint venture between Swedish power company Hexicon and Italy's Avapa Energy, has submitted to Italian authorities its first State Maritime Concession application for a 1.2 GW offshore wind farm that will be located in the strait of Sicily, near Porto Empedocle, southern Italy....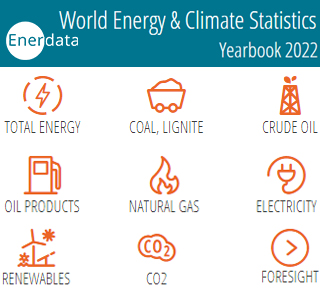 The 2022 edition of our yearbook is an application providing up-to-date 2021 energy statistics and decarbonisation indicators. With this user-friendly interactive tool, you can select the area and the period, and benchmark countries. Get unlimited access to premium annual data on supply, demand and trade for oil, gas, coal, renewable, and electricity markets, as well as CO2 emission key figures and European foresights. Covering 57 countries and regions through a unique multi-energy approach, Enerdata's Yearbook is a unique introduction to a full suite of interactive information services dedicated to the energy industry.
Energy Research & Data Services
Access Our Services
Request a free trial of our services