Victoria (Australia) approves funding for 3 offshore wind projects (4.7 GW)
The government of the Australian state of Victoria has approved a AUD40m (US$29m) funding for three offshore wind projects to support feasibility studies and pre-construction development and to help developers determine the precise location of each project. It will award AUD19.5m (US$14m) to the Star of the South offshore wind project off the Gippsland coast, which could have a capacity of up to 2.2 GW, and AUD16.1m (US$11.6m) to Macquarie Group's 1 GW offshore wind project off the Bass Coast. Finally, Flotation Energy will receive AUD2.3m (US$1.6m) for a 1.5 GW offshore wind project off the coast of Gippsland.
If developed, the projects could help Victoria become an offshore wind powerhouse and meet the Victoria's government target 40% of renewable energy in its power mix by 2025, and 50% by 2030.
---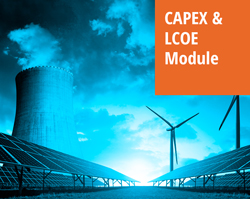 Then CAPEX & LCOE is the database you need. The module provides exclusive insights on both Capital Expenditure and Levelised Cost of Electricity.
Make informed decisions in terms of which technologies to invest in and where. In just a few clicks, access unique, premium data on both thermal and renewable power generation costs by technology and by country. Put our detailed, reliable information to use and benchmark your project.