Petronet LNG commissions 4th phase of Dahej LNG terminal (India)
Indian LNG group Petronet LNG has commissioned the fourth phase of its Dahej LNG terminal in Gujarat (north-western India), raising the import and regasification plant capacity from 15 Mt/year to 17.5 Mt/year. The Dahej LNG import terminal was commissioned in stages, with the first 5 Mt/year regasification train started in 2004, the second one in 2009 and the third one in 2016. Petronet LNG also operates the 5 Mt/year Kochi LNG terminal in Kerala that was commissioned in 2013.
---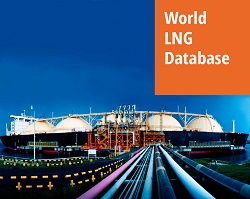 World LNG Database offers a complete set of data on LNG markets. The service provides detailed information on existing and planned liquefaction and regasification plants. It also includes LNG shipping around the world, LNG contracts, time series on regasification and liquefaction capacities, LNG flows and LNG prices for all players in the market.