Petrochina starts Jiangsu LNG import terminal expansion project (China)
Chinese state-run oil and gas company CNPC has begun construction works on the third phase of the Jiangsu LNG import terminal in the Rudong province (China). Two 200,000 cubic meters (cm) new storage tanks will be built, along with the associated infrastructure and will bring the total storage capacity to 1.08 mcm. The commissioning of the new facilities is currently scheduled for 2021.
CNPC also reported that the terminal handled 75 LNG ships or 5.75 Mt during the January-November 2018 period, the highest level in its history. The terminal started operations in 2011 and has an annual regasification capacity of 6.5 Mt/year. The facility received its first direct shipment from Russia's Arctic region in July 2018.
---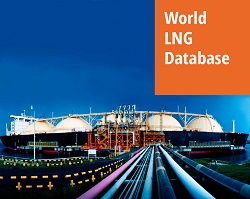 World LNG Database offers a complete set of data on LNG markets. The service provides detailed information on existing and planned liquefaction and regasification plants. It also includes LNG shipping around the world, LNG contracts, time series on regasification and liquefaction capacities, LNG flows and LNG prices for all players in the market.