Japan will launch a tender for a 360 MW offshore wind project off Akita
The Japanese Ministry of Economy, Trade and Industry (METI) will auction an area off Akita, in northern Japan, for the development of a 360 MW offshore wind project. The tender process for the Happo-Noshiro project is expected to begin in early 2022.
In addition, the country has designated four new "promising" areas and identified 10 as "potentially suitable" for offshore wind development. The new promising areas are located of Oga City (off the coast of Akita), off the coast of Yuza City (Yamagata prefecture), off the coast of Murakami City and Tainai City (Niigata prefecture) and off the coast of Isumi City (Chiba prefecture). They add to three already designated promising areas off the coast of the Aomori prefecture (two areas) and off Eshima, Sakai City (Nagasaki prefecture). The ten "areas that have advanced to a certain preparatory stage" are located in Hokkaido (off Ishikari City, off Iwau and Minamigoshi districts, off Shimamaki, off Hiyama, and off Matsumae), in the Mutsu Bay (Aomori prefecture), off the coast of Kuji City (Iwate prefecture), off the coast of Awara City (Fukui prefecture), off the coast of Hibiki Nada (Fukuoka prefecture), and off the coast of Karatsu City (Saga prefecture).
Japan aims to develop 30 GW of offshore wind capacity by 2030 and between 30 GW and 45 GW by 2040.
---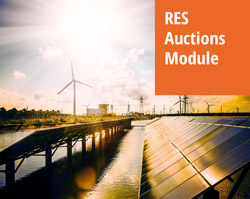 Discover our very detailed and regularly updated RES auctions database with worldwide coverage and a technical focus backed by academic research.
With our renewable energies auctions service you will be able to monitor auctions at a global level. Its (expanding) scope notably includes all major G20 countries and offers an especially fine tracking on Europe and South America.