Iraqi oil exports value up 53% in 2022
Iraq's federal government has announced that it earned revenues of US$115.5bn from oil sales in 2022, a 53% increase compared to 2021 earnings. This record is due to the gradual easing of the OPEC+ quota restrictions which coincided with near-record global oil prices caused by the war in Ukraine.
Iraq's oil exports jumped 9% between 2022 and 2021. However, exports remained below the volumes achieved between 2016 and 2019. Iraq mainly exports to Asia (around 70% of its exports, mainly to India and China), Europe and the United States.
In 2021, Iraq produced 203.5 Mt of crude oil and NGL and exported 163 Mt. The country has proved crude oil reserves estimated at around 145,000 mbl.
---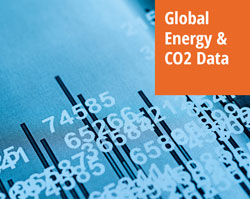 Then Global Energy Market Data & CO2 is your database! We provide world coverage of the oil, gas, coal, and power markets and a detailed overview of national supply & demand with annual data going back to 1970.
This energy database leverages more than 200 official data sources, which are processed by our analysts to provide fully harmonised data sets that are updated monthly.