IFTC lends US$154m to Tunisia's STEG to prop up future gas imports
The International Islamic Trade Finance Corporation (ITFC), an entity within the Islamic Development Bank (IDB), has signed a US$154m loan agreement with the Tunisian state-run power and gas utility STEG (Société tunisienne de l'électricité et du gaz) to finance its future imports of natural gas, in particular from Algeria. It is also meant to help balance STEG's finances that have been degrading recently due to the depreciation of the local currency.
All the gas imported or produced in Tunisia is sold to STEG, which holds a monopoly on gas distribution. Tunisia imports gas from Algeria through the Trans-Mediterranean gas pipe. Gas imports have been increasing since 2006 because of the rising demand and the decline in gas production of the Miskar field. The power generation sector accounts for nearly three-quarters of the total gas consumption.
---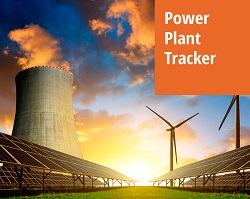 Enerdata has developed a market research service to screen, monitor and analyse the development of power generation assets.
Power Plant Tracker offers an interactive database and a powerful search engine covering power plants worldwide – including both installed and planned capacities for renewables and fossil fuels.