GHG emissions under the EU ETS scheme fell by 8.7% in 2019
According to the European Commission, greenhouse gas (GHG) emissions covered by the EU Emissions Trading System (EU ETS) declined by 8.7% in 2019. GHG emissions from stationary installations fell by 9% to 1.527 GtCO2eq, despite a growing EU economy (+1.5% of GDP). GHG emissions contracted by 15% in the power sector, in line with the substitution of coal-fired power generation with renewable and gas-fired generation, and they dipped by 2% in industry, including in energy-intensive branches such as iron and steel, cement, refineries and chemicals. Meanwhile, GHG emissions from aviation rose by 1% to to 68.14 GtCO2eq; the aviation sector benefited from 31.3 million free allowances, covering 46% of their emissions, while 54% had to be acquired from auctions or other sectors.
---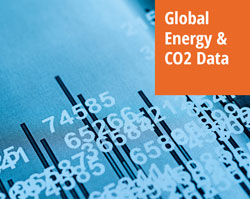 Then Global Energy Market Data & CO2 is your database! We provide world coverage of the oil, gas, coal, and power markets and a detailed overview of national supply & demand with annual data going back to 1970.
This energy database leverages more than 200 official data sources, which are processed by our analysts to provide fully harmonized data sets that are updated monthly.