Equatorial Guinea puts up 26 oil and gas licenses for sale
The Equatorial Guinea government has announced the launch of a new auction offering 26 oil and gas licenses, including 24 offshore licenses and 2 onshore licenses. Two of them already entail confirmed resources, i.e. the R-gas block, renamed EG-27, for which the Ophir Energy group had unsuccessfully tried to raise the necessary financing to install a floating liquefied natural gas (FLNG) plant, and the EG-23 block. Some companies such as Eni, Rosneft, CNOOC and Petronas have already expressed their interest for the EG27-block, as the total potential reserves of the block are estimated at 3.7 Tcf (approximately 105 bcm). The results of the auction are expected in October 2019.
---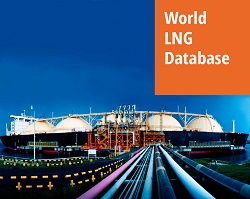 World LNG Database offers a complete set of data on LNG markets. The service provides detailed information on existing and planned liquefaction and regasification plants. It also includes LNG shipping around the world, LNG contracts, time series on regasification and liquefaction capacities, LNG flows and LNG prices for all players in the market.