Crown LNG plans a 7.2 Mt/year LNG import terminal in India
Crown LNG has initiated the development of an LNG import terminal offshore Kakinada, in Andhra Pradesh (south-eastern India). The project will be built with a regasification capacity of 7.2 Mt/year (9.7 bcm/year). The company has signed an agreement with East LNG to finance, build and lease the infrastructure for the project. Crown LNG Crown will also operate and manage the terminal, over a 25-year lease period. The company is working towards a final investment decision (FID) for the end of 2022. Commissioning is expected approximately 3 years after the FID, i.e. in late 2025 or early 2026.
---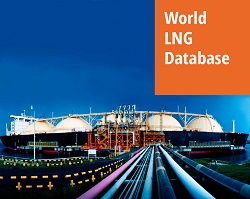 World LNG Database offers a complete set of data on LNG markets. The service provides detailed information on existing and planned liquefaction and regasification plants. It also includes LNG shipping around the world, LNG contracts, time series on regasification and liquefaction capacities, LNG flows and LNG prices for all players in the market.