The 3 GW TransWest Express transmission project reaches new milestone (US)
The 3 GW TransWest Express power transmission project, which offers 1.5 GW of power transmission services between Wyoming and Utah and 1.5 GW between Wyoming and Nevada (United States), has launched its initial capacity allocation process. The US$3bn project, which would run from Carbon County, Wyoming, to Clark County, Nevada, with an interconnection into the Intermountain Power system in Millard County, Utah, has already secured key permits and acquired nearly all rights-of-way. The 500 kV electricity transmission line would use both HVDC and HVAC technology. Construction would start after the BLM Notice to Proceed is issued and should take about 3 years. The project is expected to help Western electricity markets gain access to high-capacity wind power supplies from Wyoming.
---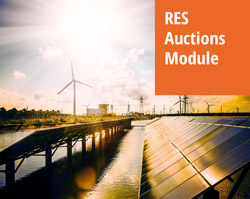 Discover our very detailed and regularly updated RES auctions database with worldwide coverage and a technical focus backed by academic research.
With our renewable energies auctions service you will be able to monitor auctions at a global level. Its (expanding) scope notably includes all major G20 countries and offers an especially fine tracking on Europe and South America.