Lao Pdr Energy Information
Population: 7.17 million
GDP growth rate: 5.17 %/year
Energy independence: 100%

Data of the last year available: 2019
Total consumption/GDP:* 116 (2015=100)
CO2 Emissions: 2.58 tCO2/capita
Rate of T&D power losses: 32.8%

* at purchasing power parity
View all news, archive your new and create your own daily newsletters only on your topics/countries of interest with Key Energy Intelligence
Total Energy Consumption
Energy consumption is relatively low at 0.84 toe/capita (vs around 2 toe/capita in Thailand), including around 910 kWh of electricity (2019).
Graph: CONSUMPTION TRENDS BY ENERGY SOURCE (Mtoe)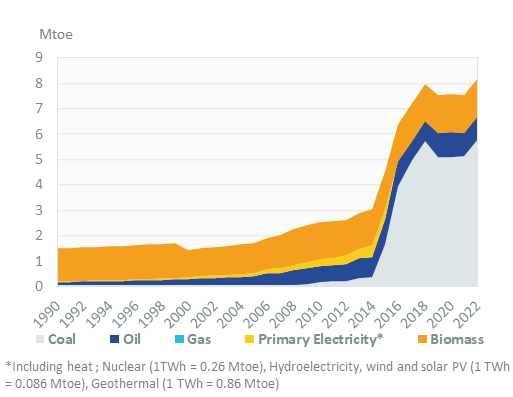 Total energy consumption increased by nearly 5%/year over 2000-2014 and surged until 2017 (+23%/year), before slowing down (+2.9%/year) until 2019, when it reached 6 Mtoe.
Interactive Chart Lao Pdr Total Energy Consumption
Crude Oil Production
In 2007 the Government granted an exploration permit for the Savannakhet area, which is the main zone of interest in the country. Three permits had been granted in the past, but no drillings were carried out and the companies withdrew. Drilling has not started in the Champasak and Saravan PSC.
A small refinery of 20 000 bbl/d was commissioned in December 2020. Oil demand is entirely supplied by imports from China, Thailand, and Vietnam. In 2019, total oil product imports amounted to around 1.1 Mt, which is nearly twice the level in 2010.
Interactive Chart Lao Pdr Crude Oil Production
Renewable in % Electricity Production
In 2011, the Government published its Renewable Energy Development Strategy, which focuses on small scale renewables (biofuels, biogas, solar energy, wind, small hydropower). The Government aims to increase the share of renewables to 30% of the total energy consumption by 2025 (ambition confirmed in the new PDP 2020-2030). The government targets 400 MW of small hydro, 33 MW of solar, 73 MW of wind, 58 MW of biomass and 51 MW of biogas capacity by 2025.
Interactive Chart Lao Pdr Share of Renewables in Electricity Production (incl hydro)
CO2 Fuel Combustion/CO2 Emissions
The country has not announced any quantitative GHG emissions reduction target in its first NDC. However, the country proposed several initiatives, including increasing its forest cover to 70% of its land area by 2020 (equal to 60 to 69 MtCO2 equivalent), increasing the share of small-scale renewables to 30% of energy consumption by 2025 (equal to 1 468 MtCO2eq), as well as increasing large-scale (more than 15 MW) hydropower capacity to 5.5 GW by 2020 and adding 20 GW beyond 2020 for electricity export to neighbouring countries (equal to 16.3 MtCO2eq).
Shopping cart
Your shopping cart is empty.
Secured payment by